Search our suppliers catalog
Biocare Medical
Biocare Medical

News about Biocare Medical
ITK Diagnostics is the exclusive distributor of Biocare Medical in The Netherlands.
Please find below a selection of highlighted items. If you have any questions regarding the delivery of your preferred Biocare Medical items, please do not hesitate to contact us.


UltraLine Antibodies
Ready to use antibodies for Roche Ventana Benchmark

Biocare UltraLine is a comprehensive antibody portfolio built specifically for your Roche/Ventana BenchMark XT or BenchMark Ultra Instrument. This powerful UltraLine of antibodies is in a convenient ready-to-use format, with protocols available for all UltraLine Antibodies.

UltraLine Brochure


Multiplex IHC

Biocare Medical's innovative range of IHC products includes novel antibody combinations and highly sensitive multiplex detection technology. These products allow for simultaneous IHC testing of morphologically distinct antigens which prevents the redundant staining of sections in cases where tissue is limited. Use of Multiplex IHC reagents also decreases total protocol time and the number of slides required, resulting in significant reagent and labor cost savings.

- Simultaneously test for multiple IHC markers
- Prevents the unnecessary staining of limited tissue
- Replace up to four single antibodies
- Reduces labor & reagent cost by >50 percent

Multiplex IHC brochure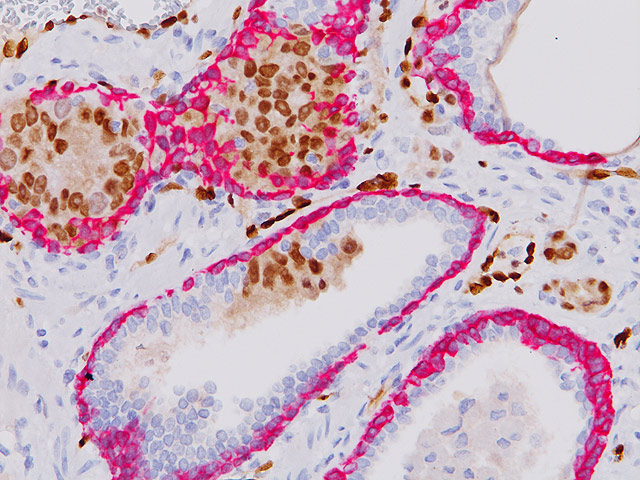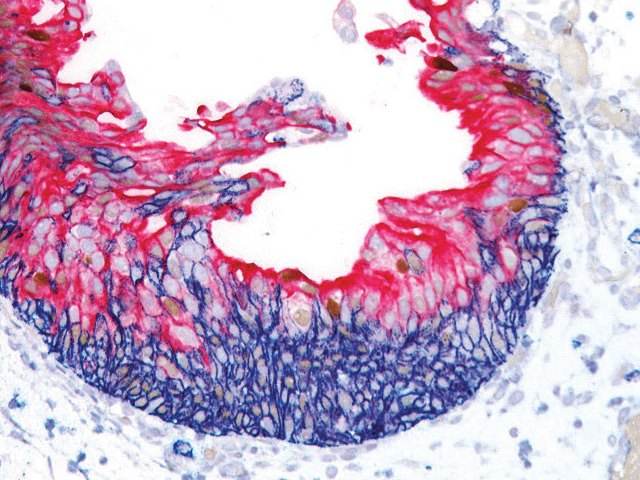 Left: ERG (DAB) + CK5 (FR) in prostate cancer and PIN*
Right: Reactive atypia meets CIS in bladder: CD44 (blue), p53 (DAB) & CK20 (FR)

*Representative cancer case

White Papers: Creating Sequential Chromogenic IHC Multiplexing Procedures
Performing Simultaneous Chromogenic IHC Multiplexing Procedures
Info Biocare Medical
Manufacturer of IHC and molecular pathology products
Biocare Medical, LLC is an innovator in developing and supplying world class automated immunohistochemistry instrumentation and a full range of reagents for IHC lab testing. Biocare is the market leader in simultaneous Multiplex IHC tests which provide increased confidence at critical diagnostic decision points, impacting patient therapy while accelerating turnaround time. Biocare's advanced micro-polymer detection enables unsurpassed specificity and sensitivity. PROMARK™ and "mouse on mouse" IHC detection kits are optimized for rat and mouse tissues and feature proprietary blocking and retrieval reagents, resulting in virtually background free IHC staining.
The company's customers include clinical histology laboratories, pharmaceutical companies, CROs, and biotechnology companies as well as academic, government, military, and other non-profit laboratories. Biocare Medical offers an expanding portfolio of integrated products to address the rapidly growing cancer and infectious disease diagnostic and research markets with novel tissue immunohistochemistry and in situ hybridization methods.
https://biocare.net/
PROMARK™ is a trademark of Biocare Medical, LLC.
Een moment geduld a.u.b. De resultaten worden opgehaald.

Product

clone

cat nr

Download