Search our suppliers catalog
CHROMagar
CHROMagar

News about CHROMagar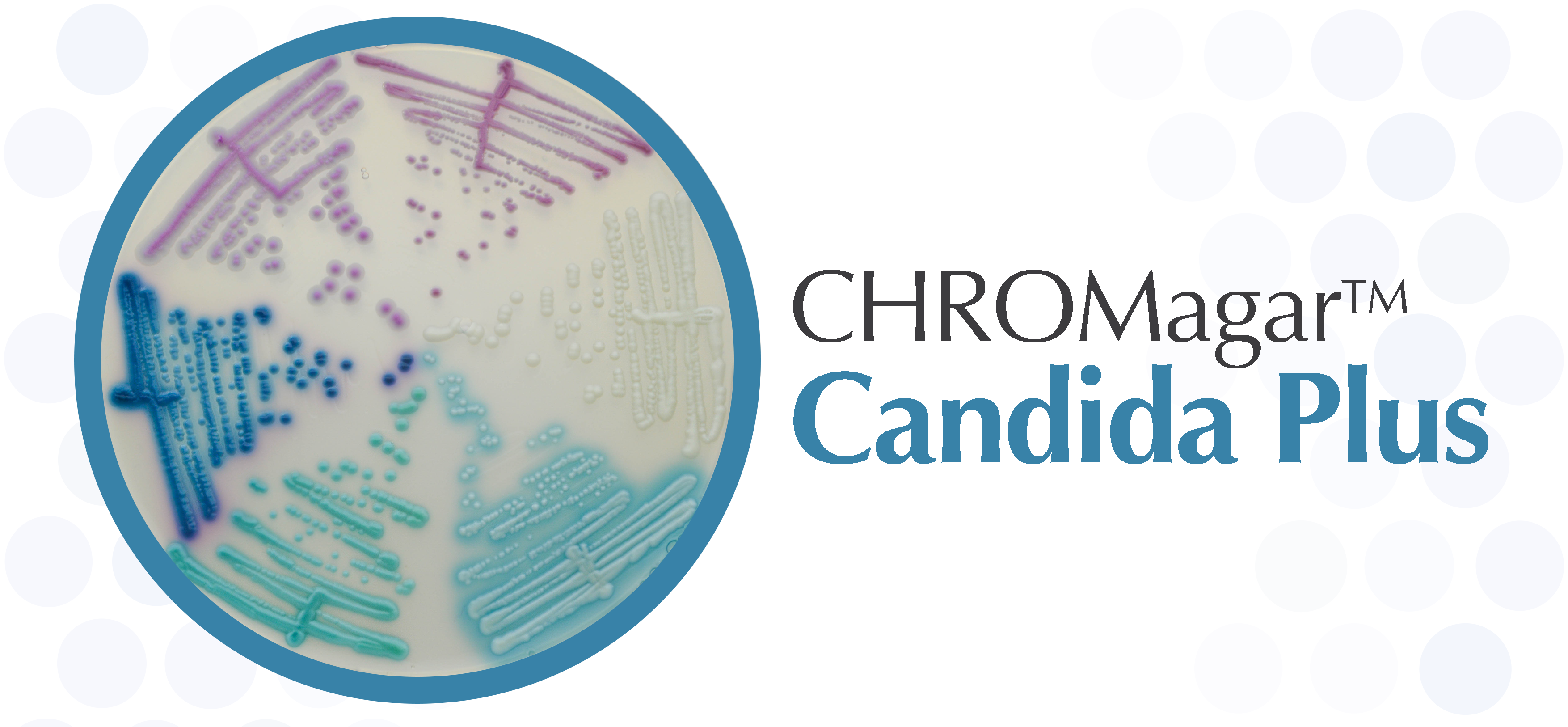 For detection and differentiation of major clinical
Candida species, including C. auris
Candida auris was detected for the first time in Japan, by Dr. Makimura team in 2009. Since then, it has been the cause of heavy invasive fungal infections and hospital outbreaks worldwide. Also, many of the reported isolates showed a high level of anti-fungal resistance and resilience to contaminate hospital equipment.
In 2020, the WHO added the Candida auris to the "priority pathogens list" of microorganism under worldwide surveillance. (1)
The importance of an early detection of this yeast in infected and/or colonized patients was highlighted.
In light of this, CHROMagar™ has modified the formulation of the CHROMagar™ Candida so to have Candida auris growing in a very specific morphology: light blue colonies with halo and blue from the back of the plate.
And the beauty of this new formulation, called CHROMagar™ Candida Plus, is that it is possible to differentiate the other common Candida species: C. albicans in green-blue, C. tropicalis in metallic blue with a pink halo, C. krusei in pink and C. glabrata in mauve, etc...
With 100 % of specificity and sensitivity for C. auris strains, it's the perfect tool in case of outbreaks.
In addition, this new medium allows the differentiation of the common Candida species with a very high specificity (2):
C. albicans
~ 100 %
C. tropicalis
~ 100 %
C. krusei
~ 100 %
(1) https://apps.who.int/iris/rest/bitstreams/1279936/retrieve

(2) From scientific study "Evaluation of a novel chromogenic medium for Candida spp. identification and comparison with CHROMagar Candida for the detection of Candida auris in surveillance samples" Juan V. Mulet et al. 2020
Info CHROMagar
Inventor of chromogenic media technology.
CHROMagar™ supplies the widest range of chromogenic culture media available, covering applications in clinical bacteriology, industrial microbiology, quality control for food and beverage industries, water testing and environmental monitoring… among other fields. These media allow for a quicker and simpler detection of key clinical and food-borne pathogens, including Salmonella, Staph aureus, Candida albicans, E.coli O157, Group B Strep, E.coli, Listeria, Vibrio and Pseudomonas.
CHROMagar™ chromogenic media are powerful and convenient. They allow a nice visualisation of coloured colonies even when the colonies are very close to each other which happens often from real samples containing a commensal flora.
The use of CHROMagar™ chromogenic media enables you to pick colonies by colour, thus providing an easy, rapid, sensitive and specific methodology for direct differentiation of species.
For more information:
http://www.chromagar.com
Een moment geduld a.u.b. De resultaten worden opgehaald.

Product

clone

cat nr

Download