Search our suppliers catalog
DIANOVA GmbH
DIANOVA GmbH

News about DIANOVA GmbH
TIGIT Antibody

TIGIT (T cell immunoreceptor with Ig and ITIM domains) antibody, Clone TG1 is the first monoclonal antibody detecting TIGIT in routine formalin-fixed paraffin-embedded tissue specimen. It has been validated for the identification of TIGIT positive T-cells infiltrating human tumors in order to allow the detection of TIGIT in the tumor microenvironment under pathological conditions.

Click here for product datasheet

Image: Normal human tonsil with numerous TIGIT-positive lymphocytes
---
IDH1 Antibody

Since 2009 clone H09 (Heidelberg 2009) has been established worldwide as a standard tool for IHC detection of IDH1 R132H in neuropathology and research.
Antibody clone H09 reacts specifically with the isocitrate dehydrogenase 1 (IDH1) R132H point mutation in tissue sections from formalin-fixed brain tumor. Heterozygous point mutations of IDH1 codon 132 are frequent in World Health Organization (WHO) grade II and III gliomas. IDH1 R132H mutations occur in approximately 70% of astrocytomas and oligodendroglial tumors. The high frequency and distribution of the IDH1 R132H mutation among specific brain tumor entities allow the highly sensitive and specific discrimination of various tumors by immunohistochemistry, such as anaplastic astrocytoma from primary glioblastoma or diffuse astrocytoma WHO grade II from pilocytic astrocytoma or ependymoma. Noteworthy is the discrimination of the infiltrating edge of tumors with IDH1 mutation from reactive gliosis.
This CE-IVD antibody can be used in IHC and western Blot applications.

Click here for the product datasheet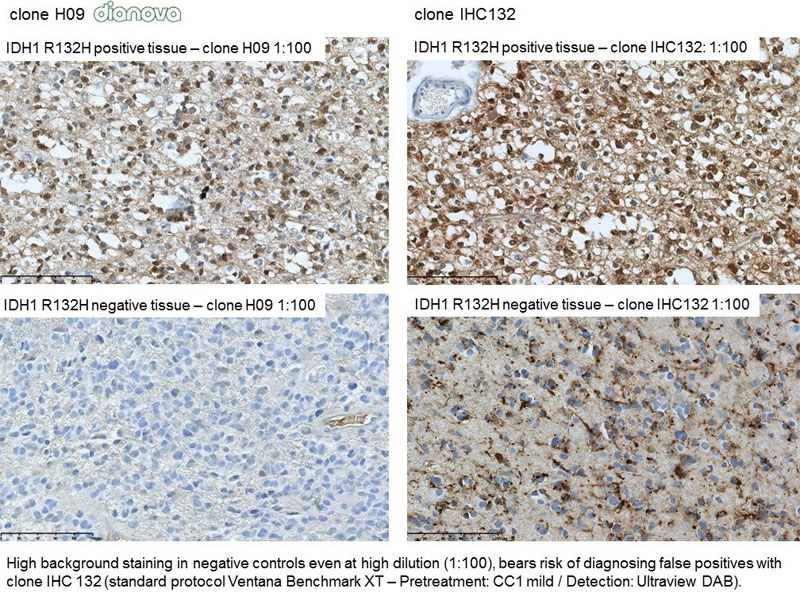 Info DIANOVA GmbH
Antibodies for Diagnostics and Research

Since its foundation in 1982, dianova GmbH provides professionals in Life Sciences with antibodies, immunoassays, and products for molecular biology. More than 30 years of grown expertise give rise to a fundamental knowledge about biochemical applications and a profound understanding of customer needs in research and routine diagnostic laboratories of universities, hospitals and the pharmaceutical industry.
Currently there are no products of the brand DIANOVA GmbH in our catalog.