Search our suppliers catalog
Nordic MUbio
Nordic MUbio

News about Nordic MUbio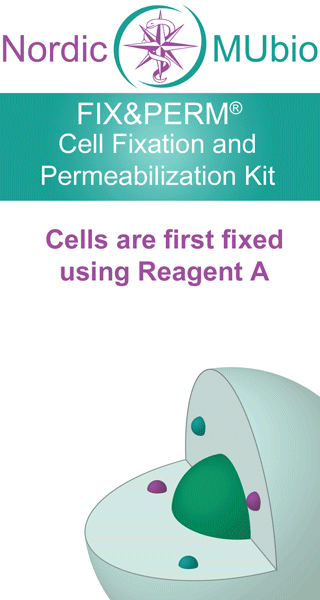 FIX&PERM Cell Fixation and Permeabilization Kit
FIX&PERM is a simple procedure making use of two reagents. Reagent A gently fixes cells, while Reagent B permeabilizes them. The specific formulations reduce background and allow simultaneous addition of permeabilization medium and fluorochrome labelled antibodies, allowing staining of intracellular structures such as cytoplasmic or nuclear enzymes, oncoproteins, cytokines, immunoglobulin's, etc.
- Mildly fixes cells, preserving their flow cytometric scatter characteristics
- Allows simultaneous characterisation of both intracellular and cell surface markers
- Rapid technique – whole procedure can be carried out in less than one hour, ready for immediate analysis or storage for 24 hours
- Stringent QC procedures – the quality of each lot is determined using well-defined blood samples and subsequent comparison of
scatter characteristics of obtained leukocyte populations, ensuring consistent and reliable results lot after lot
- A range of intracellular antibodies with optimised protocols for use with FIX&PERM
Learn More
Info Nordic MUbio
Expert in intracellular flow cytometry.


Nordic-MUbio develops and manufactures high quality antibody reagents for use in R&D. All our products are manufactured according to strict ISO 9001 quality guidelines, and their focus is on developing antibodies targetting Cell Adhesion, Nuclear and Cytoskeletal Proteins.

Nordic-MUbio is one of the leading antibody companies developing antibodies for zebrafish research – they currently have over 50 antibodies validated for immunofluorescence in zebrafish.

In proprietary and partnered development programs Nordic-MUbio is investigating, testing and validating patented antibodies and antigens for diagnostic applications in the field of lung and other cancers.
Een moment geduld a.u.b. De resultaten worden opgehaald.

Product

clone

cat nr

Download